Hosting:
shockbyte.com
Visit ShockByte.com
Rating:

2.8

Price range:

$1.49 per slot

Slots:

10 - 10

Trial period:

There is trial version

Promo codes for ShockByte.com:

DEDI3

Server location of game hosting:

Singapore

Australia

Payment cycle:

1,3,6,12 months

Website languages:

English

More details about ShockByte.com
Payment methods:
Mod support:

All Mods Supported

1-Click Install & Update

Mod Manager GUI

Customer support:

24/7 Support

Live Chat

Ticket System

Notes:

Free Subdomain

MCPC & MCPE Compatible

Java Version Switcher

Task Scheduling

Unlimited Storage

Unlimited Slots

Automatic Backups

Control panel:

Multicraft

Cluster support:

is missing
What is Valheim?
Your adventure begins as a battle-slain warrior sent to the tenth Norse realm in this new viking-themed survival game. Prove your worth and slay Odin's ancient rivals, securing yourself a place in Valhalla. Explore, harvest, craft, build, scavenge, hunt, fight, and discover this massive, procedurally-generated world with friends in your very own Valheim multiplayer server.

Robust Building System
The sky's the limit with Valheim's flexible and robust base-building system. Build harbors, mead halls, trophy rooms, cookhouses, castles, and more!

Impactful Combat System
Be it swinging your black metal sword, blocking an attack, dodge-rolling from an enemy, or slamming the Stagbreaker—a massive two-handed war hammer—the combat system is tactical and uniquely satisfying.

Immersive World
Tame the unforgiving landscapes that are home to savage beasts and mythical creatures, build your stronghold, and survive harsh environments of Valheim's unique biomes. The rough seas are no exception in your mission to conquer primordial foes!

Engaging CO-OP
Enjoy a multiplayer experience with a Valheim online server—playing with up to 10 players.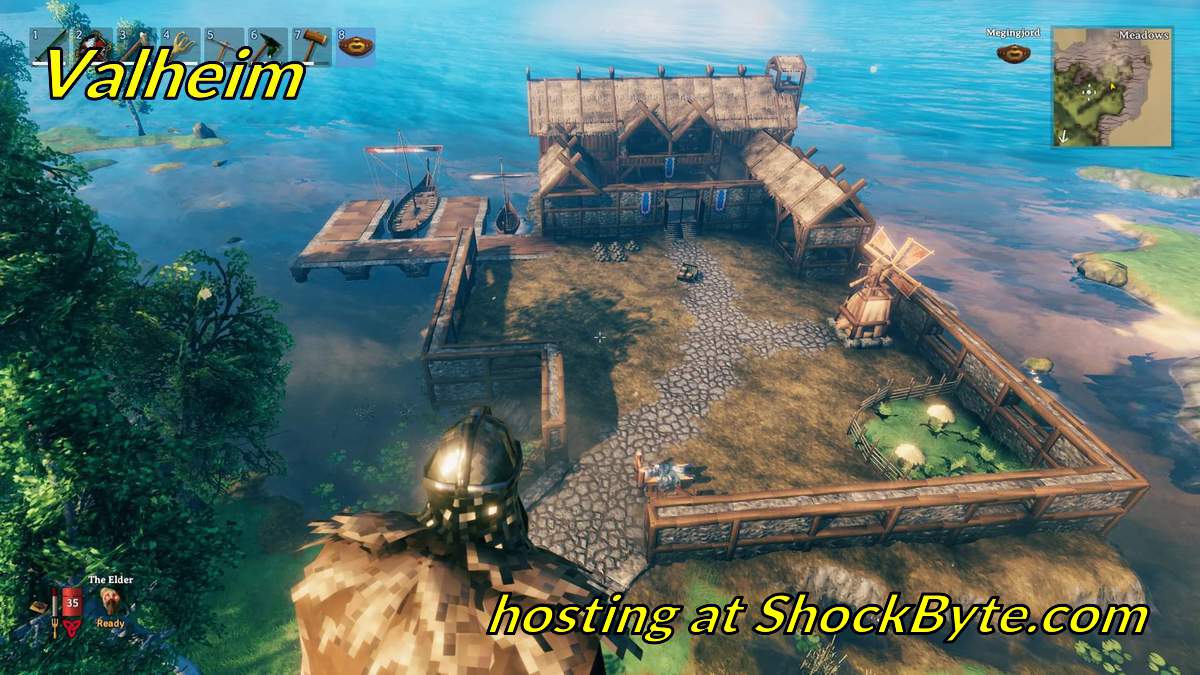 Last reviews about ShockByte.com:
Im a longtime customer but...
Im a longtime customer with having over 5 plans running at the same time.Now I wanted back into the fight for ruling Mc server. I ordered the Redstone with dedicated IP. 1 day after order I get my service (I ordered during black Friday so I understand it taking a little longer).So yea I got a service it was the Redstone plan but with no dedicated IP which I need since my server networks domain is its reputation. I am still waiting and are into day 3 of waiting for them to move my node to a node that has a dedicated IP. Even with alot todo I think 3 days is a bit to long of a wait. Besides this I really enjoy hosting with shockbyte

Great!
I would love this product and would've given it a 5 star if ShockByte implemented a discord purely for people to advertise their server and to find others to help out with their server such as building etc.

Failure to resolve a ticket in over 16 days
Server's node has crashed at least 16 times the past month. All during the day. I created a ticket and got a response 7 days later saying there may be problems with the node. Then after me reporting the issue is still happening, I got a response 7 days after that asking if I want my server transferred to another node. It's been 2 days so far and my ticket's on hold, with no ETA for when the transfer will happen and the crashes still continue. My server is down because of a node crash at the time of me writing this.