Hosting:
apexminecrafthosting.com
Visit ApexMinecraftHosting
Rating:

4.8

Price range:

$7.49 per slot

Slots:

0

Trial period:

There is no trial version

Promo codes for ApexMinecraftHosting:

CAVES

Server location of game hosting:

China Hong Kong

Israel Tel Aviv

Turkey Istanbul

Singapore

Australia Sydney

France Gravelines

Germany Frankfurt

United Kingdom London

Russia Moscow

Poland Warsaw

Brazil Sao Paulo

United States TX Dallas

United States CA Los Angeles

United States FL Miami

United States OR Portland

United States CA San Jose

United States VA Vint Hill

Canada Quebec

Payment cycle:

1,3,12 months

Website languages:

English

More details about ApexMinecraftHosting
Payment methods:
Mod support:

All Mods Supported

Customer support:

Live Chat

24/7 Support

Notes:

One Click Modpacks

Free Subdomain

Automatic Backups

Java Support

Control panel:

Custom

Cluster support:

is missing
VALHEIM SERVER HOSTING
Always Online Game Servers
24/7 Livechat and Ticket Support
Enterprise Hardware & Low Latency
Full FTP File Access
Automatic Backups & Updates
ValheimPlus with Mod Support
10 Player Slots
Simple Configuration
Advanced DDoS Protection
Instantly Online

Mobile Friendly Panel
Apex Hosting has years of experience as a game server host, and our knowledge and experience helped us to develop a simple and powerful web based panel for our customers. Your admin panel can be accessed easily from any computer or mobile device, allowing you to manage your server whenever you want. If you experience any issues with your panel, our support staff are available to help at any time.

World Class Support
We have created and hosted over 300,000 game servers for users all around the world, and our industry-leading support team are here to make the process as simple as possible for you. Our knowledgeable and friendly team are available at any time to answer any questions you may have about our Valheim hosting service via live chat or a ticketing system. We partner with data centers located in Oregon, Las Vegas, Nevada, Texas, Virginia, Florida, Brazil, Montreal, Quebec, London, United Kingdom, France, Germany, Poland, Russia, Singapore, China, and Australia can provide low ping to every player.

Host Your Valheim Server With Ease
Apex Hosting provides one of the world's best Valheim server hosting services. We can get your server up and running in minutes, and our outstanding support team is ready to assist you with any questions you may have. Our enterprise hardware in locations around the world ensure lag-free Valheim servers for all our clients.

One Click Modpacks
DDoS Protection
24/7 Support
Ultra Low Latency
Instant Setup
Free Subdomain
Automated Backups
Powerful Panel
High Clock Speed CPU
Fast Connections
Solid State Drives
Linux OS

What is Valheim?
Valheim is a Viking-themed survival game, where you can explore and survive on your own or with up to 9 friends on a dedicated Valheim server. Players can work together to build bases, create new gear, explore the world together and defeat some epic bosses. The game features numerous biomes with different difficulty levels, where players can farm for resources, craft new items, create new recipes and ultimately kill the boss in that area. While the single-player experience is fun, heading out with a group of friends to take on the world together is what makes Valheim special.

How to Start a Valheim Server
Setting up a dedicated Valheim server is not an easy thing to do on your own. It requires specialized hardware,software and bandwidth to provide the best environment for players. That's why we offer a simple Valheim server setup process, allowing you and your friends to play together online at any time. Apex Hosting has years of experience in game hosting and have perfected how to manage and operate these servers effectively. Making a Valheim server requires deploying the dedicated server software on this hardware and allowing outside connections for all of your players. Our system does all of this and also keeps the server up to date automatically. Managing your server is easy with our web-based control panel, allowing you to control your settings, start new worlds, install mods and more! Playing Valheim multiplayer without a dedicated server means you have to rely on someone setting up the game world every time you want to play. With a dedicated Valheim server from Apex Hosting, anyone can join your world whenever they want.

What is the best Valheim server hosting?
The best Valheim hosting company will provide lag free servers that are persistently online with little downtime. They will also need to make sure that the server is automatically updated so players can always connect from the game client.

How much does Valheim hosting cost?
The cost to host a Valheim server should be fixed per month as the server supports a maximum of 10 players and requires 4GB of RAM to run efficiently. This can range from $10 to $20 per month depending on the provider.

How do you join a Valheim Server by IP?
To join a Valheim server by IP you will need to add the server to your Favorites in Steam. Confirm that the Valheim Server is online, then head to steam, navigate to the view tab, then select favorites. In the favorites tab you can add a server with the IP and join from this screen.

How do you update a Valheim Server?
To update your Valheim server you will need to use SteamCMD and run the app_update command. When renting a Valheim server, the hosting company will make sure that the the server is updated automatically and always on the current version of the game.

How do you add mods to a Valheim Server?
To add mods to an Valheim server you will need to add the Steam workshop Valheim mod IDs to the gameusersettings.ini file found in your server files. After rebooting the server the mods will automatically be downloaded and activated on your Valheim server.

How do you change Valheim Servers settings?
To change the settings of an Valheim server you will need to edit the server configuration files. After starting a server for the first time the GameUserSettings.ini and Game.ini files will be created in the /ShooterGame/Saved/Config/LinuxServer directory. You can use a text editor to update these files, then restart the server for the changes to take effect.

How to set admins on a Valheim Server?
To set an administrator you will need to log into your Valheim server and press F2 to list all players. Locate the player you will like to grant admin access to and copy the ID to the right. Head back to the Apex Panel and stop the server, locate the adminlist.txt from the .config/unity3d/IronGate/Valheim/ directory. Paste the player ID (only one per line) and save the file. Start the server back up and the changes should be set.

How to whitelist players on a Valheim Server?
You can add players to the server whitelist by first stopping the server and navigating into the /.config/unity3d/IronGate/Valheim directory and locating the permittedlist.txt file. Open the file and paste the players Steam ID one per line.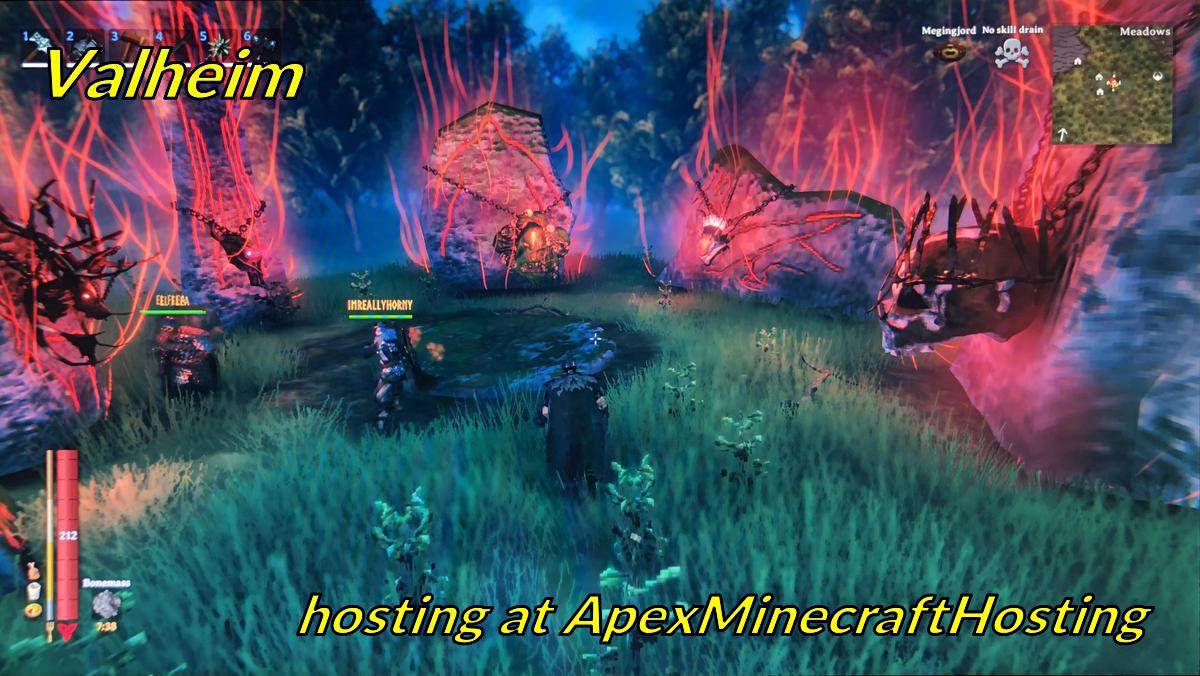 Last reviews about ApexMinecraftHosting:
A great company for small minecraft servers!

A great company for small Minecraft servers! It's great in many ways but has its downsides, such as:
-It is a shared hosting, but not too sluggish
-Its Live Chat is not 24/7
But let's think positive:
-It is cheap
-It has automatic backups
-It has DDoS Protection
-It provides a free domain

I would really recommend it to my friends and of course, you, reader.